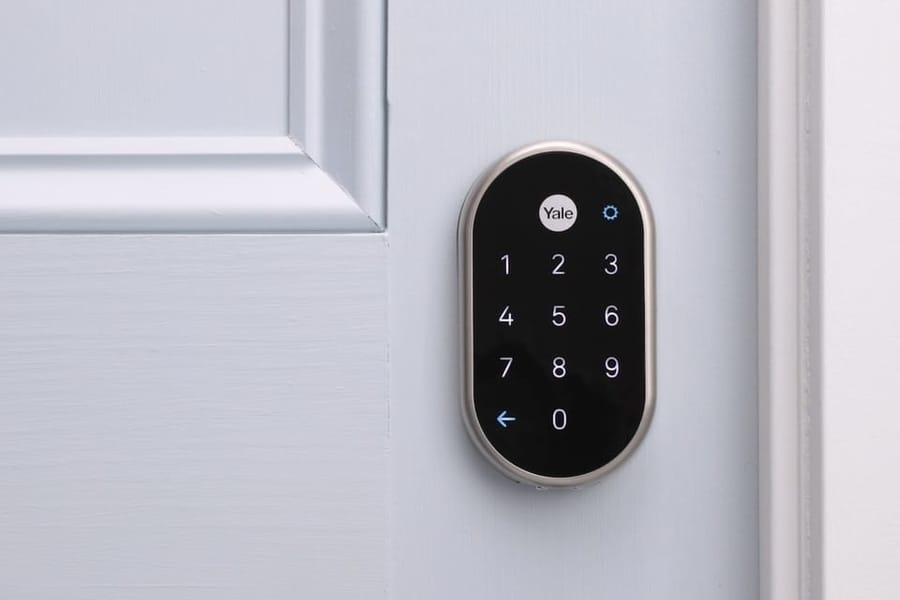 The NEST is a hub of smart home devices. The Nest Yale/Nest x Yale lock is the latest smart door lock that you can control from anywhere using the app or web. You can check the timeline that tells you who unlocked the door and when. But how secure is this Nest X Yale lock?
Can the nest yale lock be hacked? Yes, it is possible, in some cases the nest yale lock can be hacked. The nest yale lock can emit vulnerability that might end up screwing the door safety in some cases. The nest yale lock can also be accessed with pre-exiting passcodes. It is also possible that hackers can access the nest yale lock through the Wi-Fi network.
The Nest x Yale is a part of Nest home which means it will fully work with other Nest home products that you have to install. Even though the chances are minimal of this door lock being hacked, here are some simple timeless points to take note.
How secure is the Nest x Yale lock?
This modern Nest x Yale lock can replace your existing lockbolt. This keyless smart-lock system comes in a secured out layer, oil rubbed polished brass. Before installing this smart lock, take a look at the manual instruction book that comes with the package. Doors and locks are evergreen combinations.
It's important to check the compatibility of your door before you buy any smart lock. Most of the wood, glass and metal doors are fine with this home product. This x yale lock uses four standard AA-batteries to begin the work. When the batteries begin to dry, the app you Integrated will alert you to change the batteries.
But don't worry, it will last around a year. You can also check on the lock's keypad screen about battery low condition. A red color battery level will display on it.
Usually, when you ignore this warning, you will get another when the batteries are at the lowest power and if the batteries are dead, you can unlock the code entering your password in the emergency mode. This smart lock uses a 9V battery for emergency access.
Check this video on the Nest x Yale smart lock battery at the bottom side of the device (please use a headphone to before watching this video, this video has very low sound).
The Nest technology doesn't connect directly with the WiFi. It searches for wireless smart home communication. Either you need a 'Nest connect Module' for WiFi connectivity or a NestGuard for remote access. Installation of this smart lock is very simple just like any other smart lock.
There are some special notes against this smart lock. As we said already, the door locks were still accessible by pre-existing passcodes. Generally, you can set from four to eight digits passcode to this smart door lock. Not only door locks, but any smart device also has the risk of security breaches.
Most of the people are still in love with the regular door lock. There is no possible hacking and you need not to share the key with anyone like you are sharing the passcode. It's just they are not using any batteries and power.
When a Twitter user asked "Does this require WiFi?", Google replied The Nest x Yale lock does not require Wifi to work. It will function as a keyless entry (passcode) even without WiFi.
The x Yale smart lock might end up creating new worries. The batteries may die when you are away from home, as the lock is directly connected with the Google cloud you cannot expect when and how long the Cloud will go down. And If you leave your phone somewhere else, anybody can access your Smart lock (if your phone is unlocked).
If you fail to open the smart-lock you might faint and compare it with the regular old lock. If someone hacks your mobile without knowing you have a Smart lock that can be opened with the app, then you are busted. So there are major things to keep in mind when you are searching to fit a Nest x Yale lock on your door.
Security
I was irritated when I forgot my door lock keys and after every ten minutes, I checked my pockets for the key with anxiety. Now I believe there are a lot of people who feel the same or even worse. Your family trip shouldn't be like a bitter burger.
It should be sweeter. So does this smart lock can make you hands-free and stop checking your pockets frequently? let's read Why you shouldn't be afraid to get a smart door lock.
This is your home door, not an experiment you can take. If you want to save your door locks from hacking, the first thing you should follow is 'knowing the security'. You need to learn the security algorithm to purchase a smart lock. You just need to know the company's brand and security patch of your Nest x Yale lock.
The Google Nest x Yale is a key-free solution to the deadbolt lock. As long as it has an active connection with the Internet, you will be notified when someone unlocks your door. Here is what Google said (you can check Google's official page).

Chances of Nest x Yale lock to be hacked
One of my friend's neighbors said that "Nest x Yale lock is the most sensible smart home gadget I've ever used". Now that doesn't mean it is the best. Along with Nest, August and Schlage encode are the most favorite brands for smart home gadgets and they have seen no major security issues.
In the family of Smart locks, we have to discuss two major varieties. One is the Keypad or Combination lock and fingerprint or Biometric locks. Nest x Yale Lock with Nest Connect is a keypad lock that allows you to program code or combination to use when unlocking your door.
If you enter the right combination, an electrical current boosts the lock bolt to unlock the door. Most combination and keypad locks use numbers or letters or a combination of both.
These keypad locks will like any other smartphone device that can hold a few unsuccessful attempts before it temporarily blocks more attempts to unlock the door.
On the other hand, Biometric locks have the unique feature of capturing the person trying to unlock the door like a fingerprint, retina, shape of the face (Face-lock) and Voice of the person. But the most common method for these biometric locks is the Fingerprint method.
How Nest x Yale can get hacked?
When a smart door lock is installed, it is just as safe as the regular door lock. With some authentication features like a combination key code, face lock, and fingerprint they are much safer than the regular keys.
But the problem starts with programming. If the smart lock is not programmed correctly, or if some set the door lock pattern easily, with multiple attempts they can breach the code. Smart locks have to face vulnerabilities when they are programmed incorrectly.
7 out of 10 people said that they had a very poor pattern of lock that can be hacked easily. Shockingly, Amazon has affordable tools that can be used to hack smart locks. What are the ways that we have to avoid it?
The tools or gadgets that are available on Amazon are Bluetooth friendly devices. Some plain text passwords can be easy to hack. A lot of people just use their first or last name as the security code. Oh, that's weird. An entry-level hacker hacked 7 out of 10 smart locks just because of their poor password combination.
Back in 2016, Rose tested some smart locks and said that four smart locks were attacked by Replay attacks. The method that hackers use to delay with the unlocking time than the usual just to access the passcode to their network. Since the data has been sent, now the hacker can access everything you are trying on the keypad. Either he can steal the passcode or even he can command the smart lock from responding to the owners.
There is another method called Device spoofing. The act of disguising a communication from an unknown source or device as it is from the trusted source. It can be in the form of emails, phone calls or IP addresses. A command will promote from the source to enter the lock code to unlock it. When you enter the code, the device will have it.
Here is what Google said to the Nest users after a security breach. Google warns Nest Users to update security settings after security cameras get hacked.
Owners of Nest security cameras received an email from Google to secure the login credentials. Google suggested considering two-factor authentication to make it more secure.
This scenario took place after a creepy incident happened with a family. Two strangers hacked the device and used abusive language through the camera's microphone into their living room. Google added, "a few more easy tips you can do to secure your Nest safer".
Nest released a statement that Nest's system was not breached but hackers used passcodes to unlock the device. A strong password is recommended to stop the incidents.
How to protect your Smart Lock from being hacked?
As we said above, a hacker tried to hack some smart door locks but he failed to unlock four. The common things that he couldn't hack are true AES encryption, strong passwords, and 2-factor authentication.
Probably, there are no complaints about the particular model hack. Google and Nest are confident about this x Yale lock but here are few things to remember. All smart locks work on similar algorithms. They might change the encryption and passcode segmentation. So, while some smart locks can be hacked, any top brand's smart lock can be hacked too.
Instead of looking for cheap alternatives, Nest x Yale is a good option to secure your door and home. Here are a few things you can follow to avoid security breaching.
Make sure that the smart lock uses the minimum 128-bit AES encryption for all its communication. Two-factor authentication is the most secure way you can follow even though it irritates you sometimes. You can set Pin code in addition to the voice command.
Always use longer passcodes and deadly combinations. A smart lock should allow the use of long passcodes that are more than 16 characters. Smart locks with shorter passcodes are exposed to hackers. In hacking terminology, a Brute force attack is a popular term that a hacker uses to try a variety of possible combinations to hack the passcode.
Manually check the updates of related apps and software. Because in most of the cases, apps and algorithms won't update automatically. If you have the older version of the software, you are in trouble. It is the easiest way to open the risk of a security breach. Always try to keep your apps and algorithms safe and secure.
ANSI Grade: The ANSI (American National Standards Institute) grade is based on a system to determine the ability of the hardware. There are some specific tests that locks must perform before going to sale. This grade rates security, quality, and durability of a lock. Grade 1 is the highest level of residential security that can hold 1 million opening and closing cycles. Grade 2 is an intermediate level of durability that can resist 800k opening and closing cycles and can withstand 5 strikes of 75 pounds-force.
How do you reset the code on a Yale door lock?
There might be times when you need to factory reset your Google Nest x Yale to resolve some issues like an unresponsive keypad, connectivity issues or forgotten passcodes. If you are shifting your home or moving your lock to another door, it is recommended to do a factory reset. There is a detailed instruction to reset the Nest x Yale for android and iOS users.
Does Nest x Yale lock work with Google Voice?
Yes, the nest x Yale lock supports voice commands through a Google Assistant with the Google Home app on your android phone. You can tell your device to check the lock or from the Nest app, you can check whether the door is properly locked or not. You can't directly command your Google assistant to lock the door and it won't work as well.
In most of the cases, when you are giving commands, Nest x Yale is not the receiver who gets it. Instead, you'll be speaking to one of the devices like Google Home, Google home hub smart, iPhone, Nest cam IQ indoor and Nest Guard. You can say 'hey Google, is the door locked?'.
Note: You can't unlock your door using voice commands. For safety precautions, Google and Nest don't support voice commands from Google assistant to prevent unauthorized people from unlocking your door.
When you are away from home or when you are late at work, you can easily check whether the door is locked or not. While leaving for the office, people rush in a hurry and while driving they remember if the door is locked or not. All you need to do is to ask the Google assistant whether the door is locked or not.
Even with most of the connection uses, the lock is secure and all of the passcodes remain safe and functioning. However, two-factor authentication is recommended for better security.
And, I request you to not only secure your smart door lock but also secure all of your smart home devices. I have already written a helpful guide, check it out here.