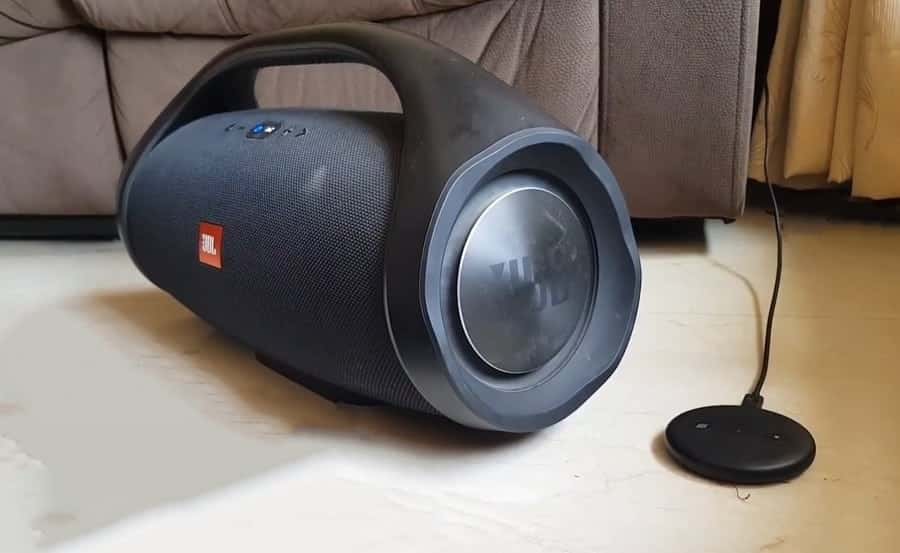 Can you turn your existing dumb speaker to smart one?
Yes, you can make your dumb speaker smart without any technical knowledge.
Actually, you can turn any speaker to smart speaker by connecting Amazon Echo Input to it. The Echo Input can be connected via Bluetooth or through AUX cable with any speaker. The Echo Input can easily add Alexa smart features to your old dumb speaker.
If you already have an old dumb speaker and you want to add smartness to it then the Echo Input is the best option for you.
What Is Amazon Echo Input?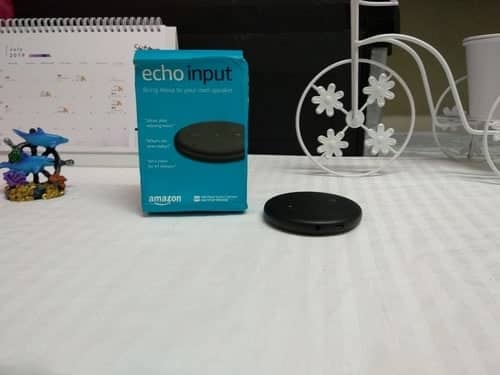 Amazon Echo Input (click to see on Amazon) is a small rounded compact device. You can simply say it's an Amazon Echo Dot without a built-in speaker.
This device is available in white and black colors and this weight around 78 grams. On top side of the device there are an action button, a microphone button, and a LED light indicator. On bottom side there is grip which makes the device not slippery.
As I said earlier, the Echo Input can be connected to any existing dumb speaker through an AUX cable or via Bluetooth.
Read also:
Like other Echo devices, you can ask weather and time, set alarm, ask different questions, add items to your to-do list, streaming Amazon music, Spotify, Apple music and many more. And,  you can also control Alexa compatible smart home devices without any hassle.
Should You Buy Amazon Echo Input?
Yes, you should! Amazon Echo Input is an amazing palm-size device that connects to your existing speakers via Bluetooth or cable, making them Alexa-smart.
Why Should You Buy Echo Input?
Apart from literally being a mind-blower, here are some reasons you should buy the Amazon Echo Input.
Makes Your Old Speakers Alexa-Enabled
So, you've got this great regular, old speaker at home, but it's just that: a regular old speaker. Fortunately, the Echo Input allows you to upgrade them. All you need to do is connect the Echo Input to your favorite old speaker, and you will be giving commands to Alexa via your speaker in no time.
It's Multi-Room Music Enabled
The Echo Input allows you to connect non-Alexa speakers to multi-room audio, allowing you to play a song via multiple speakers in your home.
It's Incredibly Cheap
Honestly, this has got to be one of the reasons why the Amazon Echo Input is a best seller. At just $35, you get the luxury of adding Alexa to any speaker of your choice. The Echo Input is by far the cheapest option to smarten up your old speakers. So, instead of a more expensive Alexa device or Alexa-enabled speaker, you get all the magic of Alexa in your ordinary speaker for just $35.
Connects Via Bluetooth or Auxiliary
One of the upsides to the Amazon Echo Input is that it can connect to your speaker in two ways. You can use Bluetooth or auxiliary audio cable, if your speaker doesn't come with the Bluetooth function or you are experiencing difficulties with your Bluetooth connectivity.
There's simply no better way to up the game of your old speakers. It's Amazon Echo Input all the way!
How to use Amazon Echo Input?
It's very simple to use Amazon Echo Input, only you need to do is set up the device on Alexa app and then, connect it your dumb speaker.
Follow below steps to set up the Echo Input on Alexa app and to connect it your dumb speaker:
Power on the Amazon Echo Input device by plugging in provided power adapter and micro-USB charging cord, the device LED light will be on.
Now, download the Alexa app (available for both Android and IOS devices), and log in with your Amazon account.
Next, from the Alexa app click on Devices icon on the lower right corner of the App.
On next, tap on + sign upper right corner of the app and then select Add Device option.
Now, follow the instructions to the end, you won't get any issue while setting up your Echo Input.
That's it! Your dumb speaker will work as fully Alexa smart speaker.
To learn more about Echo Input watch the below video. Thanks to Chris, he has also clearly explained its features and how to set up this device.
Conclusion
I found, this is the easiest way to add smartness to any existing dumb speaker. If you think this is not perfect for you, then you should buy Amazon Echo (click to see on Amazon) smart speaker which is the best Alexa smart speaker available now. The other smart speaker I recommend is the Amazon Echo Dot (click to see on Amazon), which is the best budget Alexa smart speaker.