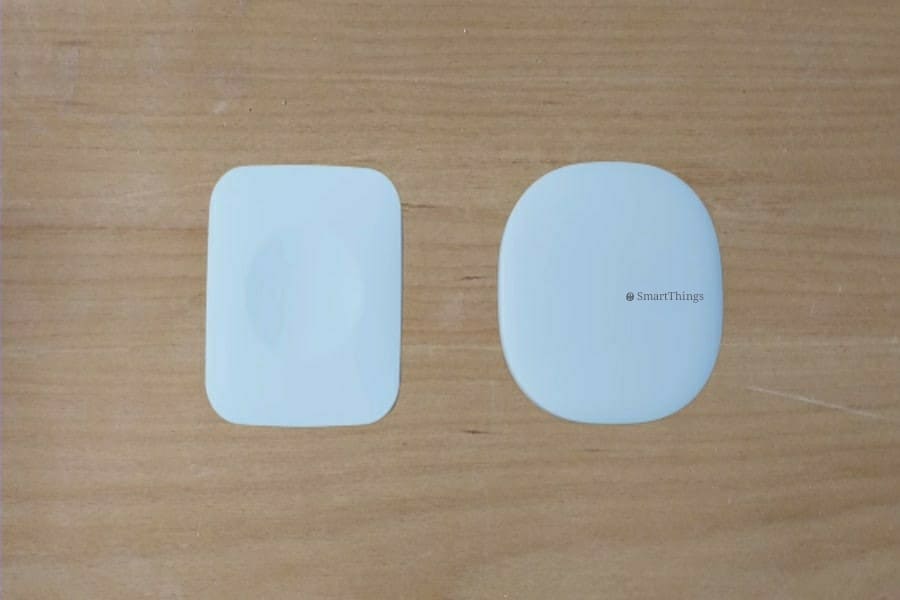 Chances are, with the vast array of smart home appliances, you might be unsure which smart hub will truly interconnect your smart home while guaranteeing smooth functioning with all the conveniences and benefits. If you've been searching for the best smart hubs, you must have come across some names repeatedly.
However, determining whether a certain hub will help your smart home to run flawlessly depends on several parameters. There is no way I can suggest a "single" smart home hub, which is the best of all and has no competition around; because every individual will have dissimilar needs for the particular features, they are looking for.
But I can assure you this – once you go through the functionality, compatibility, and accessibility of the top products I have researched and reviewed below, you'll be able to simplify the buying-decision supporting your requirements for a smart hub.
Essential points to consider before buying Smart Hubs
You won't be able to leverage the optimum power of a smart hub if you fail to choose the appropriate one in the first place. The world of home automation is growing every day. What seems to be the best option right now may become obsolete within a few months.
Rest assured, companies like Samsung, Amazon, and Google are leaving no stones unturned to offer us the most fitting smart home devices, including hubs. Simultaneously, many new players are trying to establish a strong foothold in this arena.
Therefore, it becomes crucial for you to know the ideals of considering a smart hub that fulfills your needs.
Compatibility
What could be the use of a smart hub if it's not compatible with the smart appliances you've in your home or planned to own? There are a number of different wireless protocols smart devices use to communicate with one another; thus, the smart hub you are going to add in your cart must use the same standard.
Since smart products are manufactured by different companies, they tend to respond to different protocols that imposed limitations on the compatibility with some smart hubs. And that's the reason being, don't forget to inquire if the hub interacts with the smart devices you already own or not.
If you want to learn more about the popular wireless protocols types the home automation devices make use of, do check out the last section.
Furthermore, the hub's pairing option for individual devices is also an important factor and another aspect that's worth considering. Checking with the number of smart brands and smart home products, a hub can be paired with, is a useful insight that reflects the hub's partnering ability.
If a smart hub works with the most popular and reputable smart brands such as Nest, SmartThings, Philips Hue, Ecobee, etc. or speaks more than one protocol, then it should be your priority.
Sensor Range
Not anything pivotal, but still, you should specifically be mindful of the wireless range of a smart hub if you have a large house. The sensor range of a hub is primarily dependent on the connection protocols it uses. You will get to know in the product reviews that some hubs use a wide range of protocols such as Bluetooth, Wi-Fi, Z-Wave, and Zigbee.
This factor is something to put weigh towards because the higher the wireless range, the more flexibility it will offer. You will be needed to pay extra attention to the placement of the smart hub in your house to avoid all the interference and to have seamless connectivity across the array of appliances connected.
Voice Control
Being an ardent fan of voice assistants why you'd like to comprise with this feature? You got to consider it first whether or not you need your smart hub to have a voice assistant because not everyone out there essentially needs this feature, or maybe they don't want to loosen the strings of their purse.
If you don't mind using the smartphone app to perform tasks and have no problem with standard operation, then probably you won't need voice control. Advisably, one shouldn't concern much about voice control unless they can't live without it or wants to execute commands handsfree.
The decision is up to you, so I can't comment on it. After all, it's an individual's choice of what features they think is a necessity or a great addition to their smart home infrastructure.
Ease of Setup
This is an optional consideration that you may want to skip if you are tech-savvy's and don't get bothered dealing with complex setup or configuration. But if you are a newbie who's just getting started with home automation, you probably won't like to deal with intricacies or inconvenience to start your hub.
With excessive information, it's likely to get overwhelmed, but the fact is most of the time, it tends to associate with unbreachable security and advanced features and controls. Therefore, don't bluntly avoid a smart hub (if it has great specifications) just because the initial setup and device connection seem to be a bit complex and making them feel dumb.
But the good thing is, the majority of the modern smart hubs do not require you to be a techie to turn it up and initiate the setup. Again, it's not something that we should decide for you; rather, you figure it out for yourself.
However, it feels good to do things that don't require any effort and is dead simple, but performing tasks against your comfort zone is a courageous habit to incorporate. Anyway, we aren't going philosophical, so we'd like to leave it right here.
OS Compatibility/ App Usability
It's also worth mentioning that before buying a smart hub, do check if its standalone app is compatible with your smartphone; it could be iOS, Android, or maybe Windows. Not to mention, almost all popular smart hub works well with Android and iOS operating systems. No offense, but the Windows phone was a glorious failure.
Now coming to the mobile app usability and why it's quite important because apart from voice assistants (if supportable of your smart hub) majorly, you'll be making use of the app. Understandably, you expect the mobile app to be user-friendly and easy to use, so for the sake of that, you can check on the screenshots of the app on the respective app stores.
Evaluate the requirements – last but not the least
Not every smart home product that promises making your life easier is meant for you. You must sort out your priorities first. If home security is vital, then you should go for smart security devices.
If you intend to overhaul your dumb home to a complete smart home, the product list will vary. Depending on the products you buy, select the hub that will work the best.
Again, just because the functionalities of a voice assistant appear "cool," you should not go for it. If you spend most of the time outdoors, the role of a voice assistant will be practically useless. As you already have the app to control your smart home. In such situations, a basic smart home hub will be more than enough.
The Best Smart Hubs
I have handpicked best smart hubs after thorough research and hands-on testing.
Samsung SmartThings Hub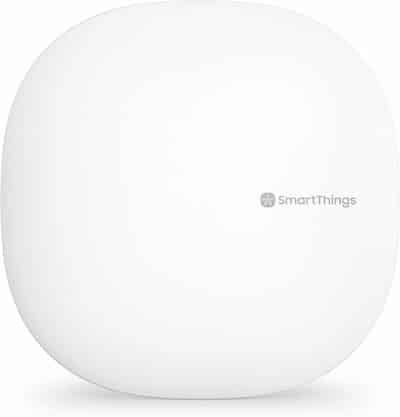 Size: 5 x 5 x 1.2 inches
Works with: Zigbee, Z-Wave, Cloud-to-Cloud, LAN
Ports: Ethernet, USB
The Samsung SmartThings Hub is a hot favorite, and for all the right reasons. The biggest USP of this hub is it does not require you to log in to the accounts of each smart appliances for syncing – the innovative hub can detect all these devices automatically.
SmartThings is an excellent choice for those who are starting off home automation because it does not cost you an arm and a leg and offers the best support you desire.
Kudos to Samsung, they seemingly spared no effort to ease the user experience. It will take care of all the other stuff once you have set it up with the utmost precision. Moreover, this hub supports the integration of most smart home appliances in comparison to its nearest competitors.
Any device that runs with the aid of Z-wave, Zigbee, and LAN can automatically connect to the hub. The latest version includes Wi-Fi, providing more flexibility to you.
Cons
Unfortunately, it is devoid of a voice assistant.
The battery support has been withdrawn. During a power outage, you will have no control over the connected devices.
You will not find it easy to upgrade from an older hub, and that it still does not include Nest integration is a letdown.
Amazon Echo Plus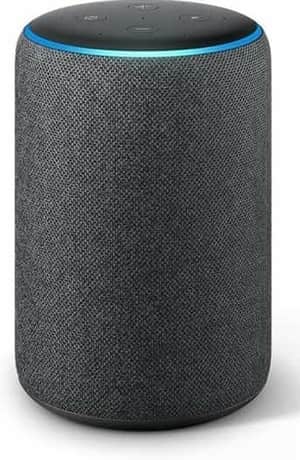 Size: 5.9 x 3.5 x 3.5 inches
Works with: Zigbee
Ports: 3.5mm audio
The cutting-edge voice technology of the Amazon Echo Plus has compelled many homeowners to go for home automation. Amazon was the pioneer in introducing voice control, and it still enjoys the numero uno position in this category.
Alexa, the name of the voice assistant, boasts of more than 50,000 skills in its repertoire. Such as its prolific skills; your life is all set to become more comfortable after installing it. Just to give you an idea, the Google voice assistant has merely 2,000 skills. Whew! That is some difference in numbers.
Amazon has made things incredibly easy for users. By voicing simple commands, you can initiate it, and as expected, it will operate impeccably. Furthermore, it can also integrate with third-party apps and work seamlessly.
Presently, there seems to be fierce completion between Samsung and Amazon, which is ultimately benefiting the user. As, recently, Amazon introduced Zigbee integration with its hubs. Integrating the other smart home appliances with this hub was never that comfortable. So, its workability is drastically similar to that of the Samsung SmartThings hub.
While I tested the second generation of this hub, a third generation is already out. Expectedly, the third generation will have improved features. As mentioned earlier, as it locks horns with its competitor, we can expect much more convenience and ease of operating our home.
Cons
The speakers of the first generation were not very strong. We could see significant improvements in the second generation, but there is still some room for improvement. This can disappoint the music enthusiasts, who prefer the hub doubling up as a high-quality stereo system for playing their favorite music.
It also lacks support for Z-wave devices, and that is surprising. It can lead to issues when it is put to the test against some smart appliances using the Z-wave protocol.
Google Home Max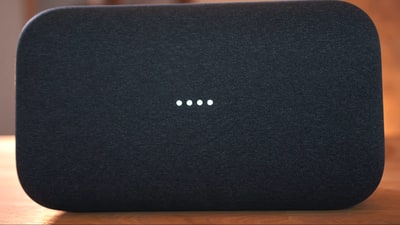 Size: 13.3 x 6.1 x 7.5 inches
Works with: Bluetooth, Chromecast, Nest, Philips Hue, SmartThings, IFTTT, WeMo, Honeywell
Ports: USB-C, 3.5 mm aux input
The deep sound of Google Home Max will immediately attract the eyeballs and the ears too if you are a music lover. Simultaneously, it is a strong contender in the league of the best smart hub. But, you will never get tired appreciating its dual 4.5-inch woofers, dual 0.7-inch custom tweeters, and six class D amplifiers.
The Google Home Max is the nearest competitor of Amazon Alexa, and it will also let your voice commands to control the other gadgets. You have an advantage if your home has been set up with Chromecast. Rest assured, your home is all set to become an entertainment hub.
The best part, the smart hub is capable of differentiating voices. Particularly, if there are multiple family members, this feature can be handy. Each member of your family can customize it, and the hub will deliver as per expectations.
Cons
However, Google still needs to improve if it plans to give its competitors a run for their money. Yes, it syncs well with many smart home appliances, but it lacks the support of the protocols like Z-wave and Zigbee. Thus, you will find it daunting to sync the hub with devices that uses any of the above protocols.
In the most likelihood, you ought to invest in additional bridges, or may even require to pair it with the other hubs, that offer greater flexibility. That said, sources reveal, Google has something up its sleeve, which we will witness shortly. Nevertheless, for the starters, Google Home Max can serve their purpose well.
Securifi Almond 3 Smart Home Wi-Fi system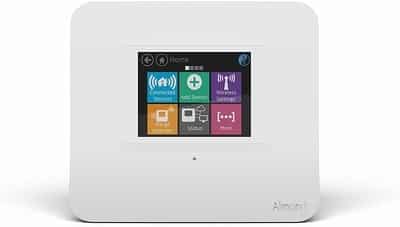 Size: 5.3 x 1.9 x 4.6 inches
Works with: ZigBee, WiFi, Z-Wave support can be with a $20 dongle
Ports: LAN, USB 2.0
You must have noticed, the majority of the hubs sport a similar appearance. Finally, here comes a smart home hub that breaks this jinx. It's handsome as a hunk and pretty as a princess, and will instantly appeal to you. But, does it pack a punch too? Let us find out.
The good news, the Securifi works equally good as it looks. The initial setup process is easy. The resistive touch-screen offers easy access to all the settings you require. It has both 2.4GHz and 5GHz channels, though only the latter seems to work wonders compared to the 2.4GHz channel.
This hub is nevertheless a good option for starters. The device will integrate any smart appliances that work via Wi-Fi. Furthermore, it supports Alexa; you can use voice commands for all the usual day-to-day tasks.
Cons
The hub may not perform well if you have a large home. The same goes for multi-floor dwellings. As I mentioned, the 2.4GHz works below par, and it is asking for a bit too much for the 5GHz channel to cover up larger spaces. However, here lies the solution. You can add another hub, and the problem gets over.
Another letdown is the inclusion of two Ethernet ports. You cannot add more devices if you desire.
TP-Link Deco M9 Plus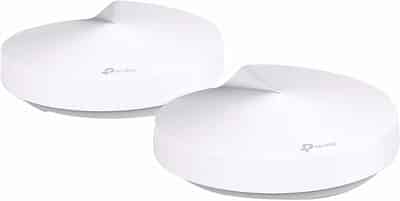 Size: 6.0 x 6.0 x 1.5 inches
Works with: ZigBee, Bluetooth, WiFi
Ports: USB, Ethernet
The Deco M9 doubles up as a smart home hub and mesh Wi-Fi system. With the help of it, you can effortlessly distribute the internet connection and sync all the other smart home devices of your home.
On our tests, I was pretty satisfied as it did a decent job integrating smart home and Internet of Things (IoT) devices. The hub lets you create sequences of instructions for all the other smart devices to which it connects.
It is an ideal option for small to medium homes. The inclusion of network security software is a welcome addition. As you know, the smart homes are vulnerable to threats from hackers and malware, with the Deco M9, you know you are protected.
Cons
It does not offer support for USB ports.
Wink Hub 2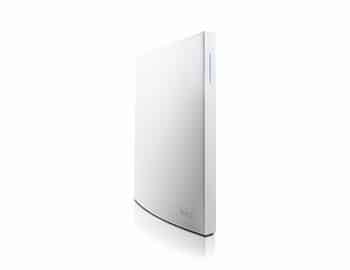 Size: 7.25 x 7.25 x 1.5 inches
Works with: Bluetooth LE, ZigBee, Z-Wave, Nest, Philips, Ring, Ecobee, Go Control, Schlage, Sonos, Arlo, Yale and Chamberlain, Kidde, Lutron Clear Connect
Ports: Ethernet
If you are finding it hard managing all the smart components in your home under one hood, the Wink Hub 2 can be a perfect answer to your problems. You can set it up over the 2.4GHz and 5GHz Wi-Fi channels.
Wink recommends placing the hub at least fifteen feet away from your wireless router when you plan to connect it via Wi-Fi. As expected, the setup procedure is simple.
It will start integrating with all the smart devices present in your home as soon as it is alive and kicking. Furthermore, the support of protocols likes Z-wave and Zigbee promises to be a good option.
The app is also a no-brainer. Within seconds it detects the presence of Wink hardware and will start adding the smart devices to it. In some cases, you may have to perform individual setups depending on the features and specifications of the smart appliances you intend adding.
Cons
The absence of battery backup also hurts. In case of a power outage, the hub will reboot, resulting in downtime. It can take up to a minute before things get back to normal again.
Logitech Harmony Hub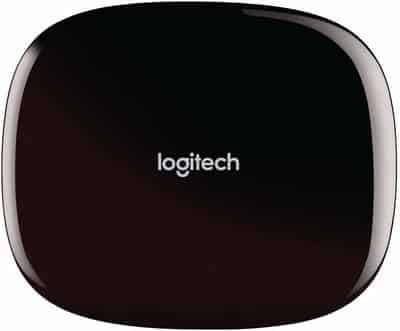 Size: 4.07 x 4.91 x 1.05 inches
Works with: Wi‑Fi 2.4GHz, Bluetooth 3.0
Ports: Micro USB
Your expectations sky-rocket when you move to home automation, however when you have the Logitech Harmony hub with you, you can nurture your aspirations. For the layman, it appears to be nothing more than a remote control.
Yes, it does control your TV and the other audiovisual devices. It can also control a host of other smart devices with elan, making it a good contender as a hub.
If you opt for this hub, get ready to splash the cash, but soon you will find out, the investment was worthwhile. Appearance-wise, the hub is pleasing and comes with rechargeable batteries.
For a change, unlike the other Harmony devices, the setup is super easy. The app will let you integrate with the other smart devices seamlessly. Within minutes, it becomes functional, taking charge of all the associated smart home appliances.
Cons
It has a fair share of brickbats as well. The hub's inability to support products that communicate using Z-wave and Zigbee protocols directly is poor thinking by the manufacturers. You will need to invest for a Harmony Hub extender to do this.
The touchscreen of the remote can also cause problems infrequently. When you are in the middle of something substantial, this can be rather irritating.
Hubitat Elevation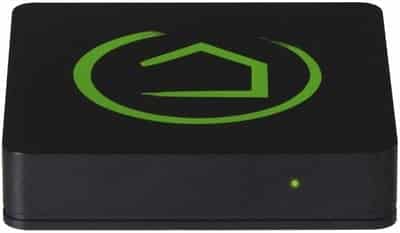 Size: 2.5 x 2.5 x 0.5 inches
Works with: Zigbee, Z-Wave, IFTTT, Wi-Fi
Ports: Power, Ethernet
All this while, I have been talking about hubs that are simple to operate. As we approach our last smart home hub, here is one that is designated for the power users.
Ideally, this hub will quench the thirst of the individuals who prefer taking the "smartness" of their home to another level. Expectedly, the setup procedure is complicated. But once it is successfully done, you get the freedom of creating improvised automation and guidelines for the entire smart home appliances at your home.
The small but potent hub has a wide array of features. It can connect to Z-wave and Zigbee devices in a matter of seconds. Interestingly, there is no app for this hub. You have to take the reins and create a web app from the Dashboard manager. Once done, you can start adding the other devices, which again will take a fair bit of time.
Cons
Even if you are a power user, the steep learning curve will test your patience.
I did not expect a hub that promises to be so advanced has to be plugged into a router. Such an advanced piece of hardware, according to us, should have been wireless.
Types of Smart Hub Connectivity Protocols
As promised earlier, here is a brief overview of the widely used wireless protocols featured in smart home hubs:
WiFi:
With no doubt, WiFi is one of the most commonly used wireless network technology, which is both the fastest and reliable communication technology. It is a cost-effective and easily accessible protocol; however, the only downside it comes with lies in the high-bandwidth consumption that drain out the battery-powered devices at a relatively high rate.
Moreover, deploying a host of devices using the bandwidth on the same network, it gets susceptible to occasional interference. Since it burns a higher amount of energy compared to other protocols, you'll require to plug the device into an electrical outlet for constant power supply instead of relying on the battery.
Bluetooth:
Bluetooth is based on a personal area network (PAN), which is a short-range wireless protocol primarily used with phones, headphones, and speakers. It's more secure than WiFi since it uses frequency jumping and encryption for data transmission. But due to the limited range and usability throughout the home, it's not generally used for always-connected devices.
However, Bluetooth is incrementally evolving, and we can expect to see something promising in the foreseeable future. Bluetooth Low Energy is a newer standard that is likely to increase the standard's range via mesh networking technology, but it's currently aimed at novel applications.
Zigbee:
Most of the pioneer companies have been incorporating Zigbee on home automation devices as a primary wireless protocol for integration. It operates on a mesh network that helps to strengthen and expand the smart home network.
Zigbee powered appliances use little power, but since it operates on 802.15.4 wireless standard on the 2.4GHz radio frequency, it can be vulnerable to interference with 2.4GHz Wi-Fi networks.
Z-Wave:
Z-wave is another wireless radio frequency communication protocol commonly used for home automation. Z-wave uses the 908.42 MHz frequency, which gives it an edge over the other protocols. Zigbee, WI-Fi, and Bluetooth all operate on 2.4GHz. Thus it is safe from interference issues with the other systems.
It has a range of 100 meters and facilitates data transfers using small packets, which ensure low communication latency. Each Z-wave device in a network has a unique ID; this makes it very secure. The interchangeability feature makes it convenient to work with both older and newer Z-wave products.
Conclusion
As I conclude, I hope you will surely find any one of these smart home hubs useful for your requirements. Additionally, now that you are familiar with the buying criteria, I am sure you will hit the bull's eye and make the correct decision.