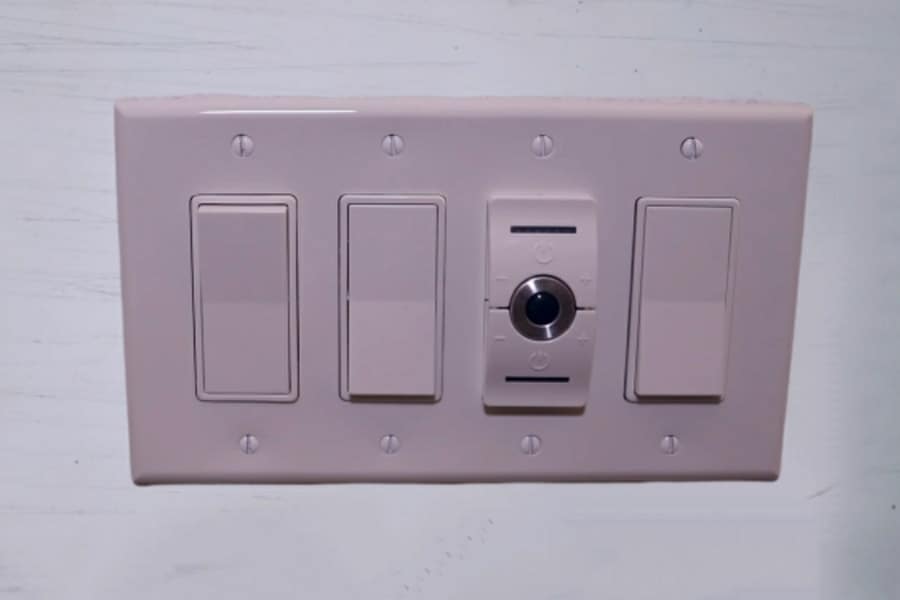 If you are looking to get a head start on the smart home frontier, you can start with the smart lights and smart light switches. Both have intriguing features, but uncertainty can prevail when you are unsure if smart lights switches are necessary. It may be appealing to go with the smart lights only, but in certain circumstances, the smart light switches can be indispensable.
The answer to whether you really need a smart switch will mainly depend on several factors. If you have many light fixtures, the cost of installing smart bulbs can be a headache. Again, if you have children in your house, they will not be operating smartphones for controlling those bulbs. Thus, the smart light switch is the best choice.
Furthermore, you can control many smart bulbs with one smart switch, and it becomes a much cheaper option.  The problem with smart lights, if someone turns them off, you have to initiate them manually. Since they are without power, even the voice assistants cannot help.  When you turn off smart switches manually, the power is not cut off; this is a great advantage.
So, as you can understand, smart light switches can be a prudent choice. Let me explore further.
The functions of a smart switch
Of course, smart switches can control the lights of your home. But, they can perform a host of other services as well. It can also help you control hardwired appliances, and the ceiling or bathroom fans.
They can also integrate with the smart speakers like Amazon Echo or Google Assistant and can operate listening to your voice.
You can use your smartphone as a remote control for turning on and off your home lights with it.
You can customize schedules for turning the lights on and off at specific times of the day.
When you step into the world of smart home, you will naturally upgrade to more smart home appliances. You can then integrate the smart switches with more complex event-based automation. Precisely speaking, you can sync several smart appliances with the help of a smart home hub without any problems.
Advantages of Smart light switches
The successor of the conventional wall switch, the smart switches as expected gives you the convenience of controlling them manually or via an app or speakers.
Unlike the standard switches, a single, smart switch can be in charge of many lights. Undoubtedly, this will help you save money, as you no longer require replacing all the light bulbs in your home.
In situations where the conventional wall switches develop a problem, managing the smart bulbs at your home will go haywire. However, with smart switches, you can still control the lights with your phone or the voice assistant.
Your electricity bills will be lower after you switch to the smart light switch. Believe it or not, you can save as much as 60% on your energy bills as some of the latest smart switches support dimming technology and lights rooms when it senses the presence of people in a room. I will discuss this in details a little later.
Again, if you do not know this already, the smart switches are much cheaper than the smart light bulbs. As previously mentioned, a single, smart switch can control multiple lights. So, you do not need to buy several smart bulbs, for every nook and corner of your house.
These switches can work with all kinds of light fixtures that again save you from the ordeal of searching smart bulbs of the right size and shape. It is quite possible; your house has non-standard lights. In such cases, a smart switch can be very useful and cost-efficient instead of changing all the lights to smart bulbs.
Dimmers and Bulbs
Presently, there are smart switches that offer you the convenience of dimming the light bulbs connected to the circuit. Doesn't this sound interesting? While purchasing a smart switch, make sure to verify whether the selected switch includes this functionality.
If you are someone who prefers the smartest possible home, you will have to invest in bulbs that support the dimming feature for things to work. Most of the present day, LED bulbs are dimmable owing to their designs. But, you should still double-check if the bulbs will work with the smart switch circuit.
I am sure, not many of you know this. If you plan to install smart bulbs like the LIFX or Philips Hue ( click to see current price on Amazon), then do not go for the smart switches. The reason, when you disconnect power to these smart bulbs, they instantly lose their smart features and become dumb.
To add to the woes, it will also drain the lifespan of both the smart bulbs and switches. So, smart bulb owners drop the idea of installing a smart switch. Instead, opt for switch covers or any other device that resembles the functionalities of an in-wall light switch that ensures the smart bulbs are always powered on.
The downsides of Smart switches
The biggest obstacle is undoubtedly a complicated installation procedure. Admittedly, not many of us are comfortable fiddling with the electrical wiring of our homes. Thus, it becomes necessary to call for a professional electrician.
If you live in an old home, the smart switches may not work. It requires a neutral wire, and most of the old homes do not have it.
Basically, the smart light switches will turn the lights on and off. If you opt for features like color-changing lights, setting up different lighting patterns based on your activities, you will need specific smart switches that support the dimmer facility to go with it.
Additionally, smart bulbs should support dimming to make things work. All of these can add up to the costs, and hassles upfront.
Are Smart switches worthy?
The answer to this question depends on your home and your lifestyle. While researching for the smart home products, you must have noticed; most people prefer the smart light bulbs over the smart switches. These bulbs are easy to install, you simply have to screw them into a light socket, and that is it.
However, if you have small children in your home, who have a knack of flipping off the switches, the smart light switches can be an ideal option.
For some, moving ahead on the smart home bandwagon, the manual wall switches just does not go well with the appearance. The smart switch is, again, a worthy alternative for them.
Lastly, if your home has a lot of fixtures in each room, the cost of smart bulbs can add up very quickly. Therefore, assess the number of bulbs you require and how many switches you have. You should soon be able to figure out which amongst the smart bulb and smart switch is the cost-effective option for you.
At the present day, you have a plethora of options for smart light switches. Remember, the more feature-rich smart switches will be costlier than the basic smart light switches. Below, I have elaborated on the cost factor, which should help you to understand things better.
The cost factor
The cost of smart switches can vary depending from one brand to the other. Additionally, their supported features also add up to the charges. The smart switches can be expensive; our suggestion is to start working with the switches which you mostly use.
Do not forget to check out the features of and the brand that is right for you, and try them out for a few months. After you become accustomed living with the smart switches, you can always make the necessary adjustments later, i.e., if you wish to upgrade to smart switches for the other rooms of your home.
So, that is it. Now, that you are familiar with the smart switches, you should not find it difficult in deciding whether or not to go for the smart switches.