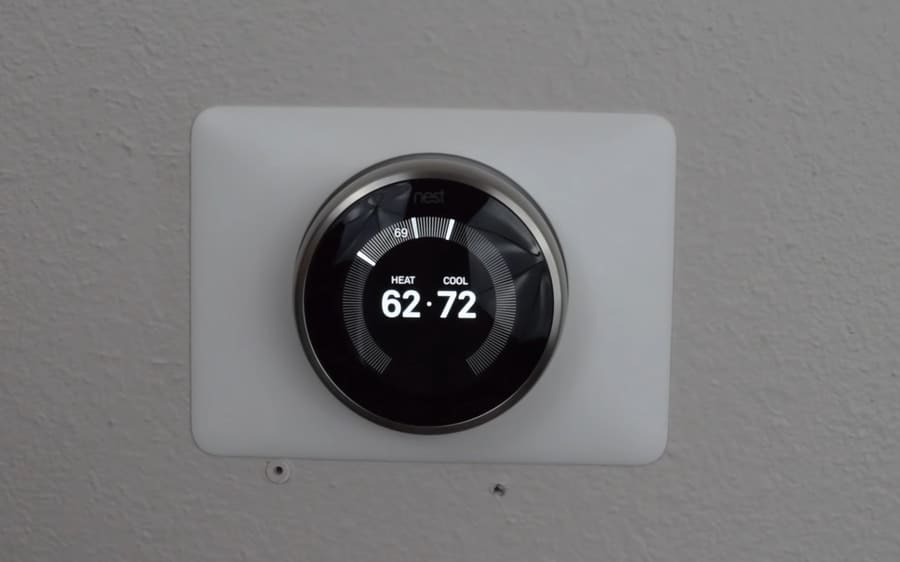 The subsequent issues that come along power outages are unavoidable for every smart homeowner. Well, there isn't much you can do about it, but having complete knowledge about the gadget, and how is it going to perform when the power goes out is helpful indeed.
Besides other smart devices, a thermostat is quite prominent and when not working can result in unbearable freezy sleepless nights or even worse. Imagine what would happen when there is – degrees temperature outside and unexpectedly, power outage happen? Does Nest connected thermostat still work in no power?
Yes, it would remain operational; all thanks to the battery backup that comes to the rescue. The Nest Learning Thermostat comes with a rechargeable lithium-ion battery that keeps it functioning typically for one to two hours during power outages before it completely shuts down.
However, your Thermostat will no longer be "smart" as long as it's running on the low battery. There are more issues potentially associated with Nest thermostat that you may encounter; therefore, it's better to investigate the possible workarounds prior, so you can tackle them without going nuts.
What happens to Nest Thermostat when there's a power outage?
As mentioned earlier, the inevitable situations are bound to happen, which often leave you with no options. But having the apt knowledge of the foreseeable problem you know may take place, would make you aware and additionally give you an upper hand to combat before it happens.
Knowing what all you can expect from a Nest thermostat in the event of power interruptions, would help you giving a crystal clear answer of what needs to be done in the given situation.
Read also:
The 3rd generation Google Nest Learning Thermostat (click to see on Amazon) is arguably a great device for smart home enthusiasts. Despite its smartness and the advanced functions it contains, all become "good for nothing" during no power.
As you know that it has a battery backup that kicks in when the thermostat subjected to power outages, but that too will not be going to keep it alive for a long time. Moreover, the Nest thermostat when running on the battery would gradually lose its smart functions and goes "dumb" eventually.
In simpler words, a thermostat is only smart when it's connected to the internet.
In order to prevent the battery from shutting down completely, Nest's Thermostat program would automatically make certain changes to keep the charge up and running as long as possible. It includes taking the device offline by initially disabling WiFi connectivity as it quickly drains the battery out of charge.
When the Nest's battery level gets below 3.6V, it will disconnect the WiFi. You can check that by navigating to the Settings > Technical Info > Power. Notably, apart from you being not able to operate the thermostat remotely, there's not much that can bother you.
When low in charge Nest Learning thermostat only make use of the essential resources that are mandatory to keep the services and schedule operational. Ideally, during power outages, Nest thermostat would merely function for one to two hours on battery backup.
If you are new to this device and haven't been in a situation where a thermostat had completely gone out of charge, then you must know that after power restoration it will typically take an hour to back to its proper working state. And once it has a sufficient charging the program would automatically reconnect to your router.
Nest Thermostat and C-wire
If you are aware of the Nest thermostat wiring, you must know what C wire is responsible for and why it's crucial. A C-wire that is also called as "common wire" is a power supply that is essential for smart thermostat to work properly. It's a dedicated wire that is responsible for delivering adequate constant power to your thermostat.
Usually, in most cases, Nest thermostat's are able to charge their built-in battery using the system's heating and cooling wires. But in some cases, if you're experiencing odd heating or cooling behaviors after installing your Nest thermostat, you may need to connect a common wire that could possibly resolve the issues.
According to the manufacturer, the little power consumption of Google Nest thermostats is typically the only reason why not in large cases a C-wire is mandatory for them to stay charged up.
However, having a common wire connected to your smart thermostat (be it Nest or some other company) is always proved to be useful. As modern thermostats are comprised of Wi-Fi activity sensors, backlit displays, and other power-draining features, a common wire could help in enabling the continuous flow of power to the thermostat.
In case, if your system doesn't have a C-wire, you would be needed to run a new cable from your furnace to your thermostat. You can take the help of a professional electrician for installing the wire.
You should also give a try to the Nest compatibility checker to get a clear-cut idea on C-wire.
Don't solely rely on the battery
If you are residing in a locality where power outages are frequent, and moreover you are also highly concerned about the Nest thermostat losing power, you should not then rely on its battery life.
Since it can operate for a short time due to built-in battery backups, it doesn't imply the usage is meant for heavy or long-term use. Therefore, I weigh on the idea of investing in an Uninterruptable Power Supply (UPS) or generator that could ensure you a peace of mind.
This is a viable yet reliable option that's worth considering before a tragedy befalls you. Although, it's generally dependent on how frequently your smart home encounters power outages and how long do they last.
Conclusion
So it's time to wrap up this guide, and I hope you've got your answer what you came here looking for.
Be it any smart home gadget; if it has any kind of power backup, it will work in power outages for some time until the battery gets entirely out of charge. Most importantly, you should not confuse the use of the device when running on a battery backup over normal usage when powered on.
The Nest thermostats come with a battery backup that's primarily for keeping memory saved and preventing the programmed schedule from getting wiped. On emergency conditions, you can make use of the heating/cooling services, but when not needed necessarily you shouldn't drain its stored charge.
Summing it up, your Nest thermostats will work even when the power goes out. But as the battery gets on a low level, it will automatically start disconnecting some functionalities such as WiFi connectivity. You should know when smart thermostats lose their internet connection, they simply act like a normal thermostat and become dumb.